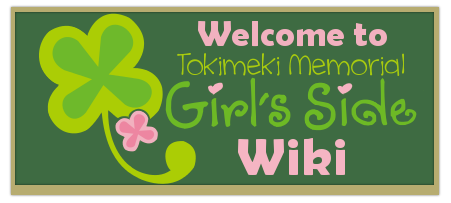 This wiki is still under a bit of reconstruction, please excuse the mess! >_<
About
Tokimeki Memorial Girl's Side (ときめきメモリアル Girl's Side - Tokimeki Memoriaru Girl's Side) is a female-oriented dating sim (otome game) video game series, originally released by Konami for the Playstation 2 game console on June 20, 2002.
The game has spawned 2 sequels, a spin-off game and has been ported to the Nintendo DS.
All of the games follow their female protagonist during their three years of high school. Throughout the course of the game, the player must raise their stats, go shopping, coordinate your clothes, and go on dates in hopes of wooing one of the many eligible bachelors by graduation.
Games